Live Stream Notifier for Firefox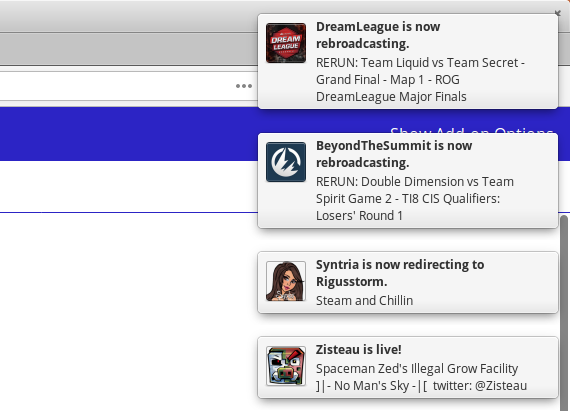 The Live Stream Notifier extension for Firefox shows you a notification, whenever a followed channel on Twitch, Hitbox, Ustream, Livestream, MLG.tv, Azubu or YouTube goes live. But the notifications don't stop there: you can also get notifications when a stream changes the title or goes offline.
You can manage the followed channels with a powerful channels manager, which lets you auto import all the channels you follow with one click, add all channels a user follows or just add a single channel. Of course it also lets you remove channels.
Sometimes you miss notifications, but thanks to the handy panel, accessed by a button, which has a red dot if any channel is live, you always have access to all the channels the extension is monitoring. You can open their archive page or refresh them. The panel has three different styles, a compact one, if you follow a lot of people, a more spaceous one and a layout with thumbnails of the livestreams.

More Screenshots